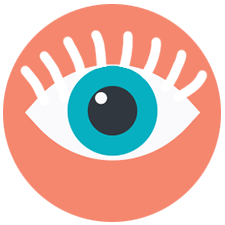 Lashes
What are they? How are they applied?
Applying extensions to the eyelashes is a practice that enhances the length, thickness, and fullness of natural eyelashes. Our extensions consist of silk hairs.  The main method of applying eyelash extensions is individually adhering them to each healthy, mature lash one-by-one.
False (or strip) eyelashes and eyelash extensions are not the same!
Protecting client's own natural lashes is our main concern.
We only use pharmaceutical grade adhesive which never come in contact with your skin. We apply eyelashes about 1 mm away from your skin to avoid eye irritation.
Skin Spa Lash Artists are well-trained and have state-issued licenses, which ensures state compliance with sanitation and safety procedures.
How long does the process take?
It usually takes one to two hours to attach a full, new set. An average person might have anywhere from thirty to eighty lashes per eye. The variance in the number of lashes accounts for the difference in how long it takes to apply them.
How long will they last?
Eyelash extensions usually last around 3–4 weeks, after which they start falling out or thinning. Maintaining a full set of lashes requires a refill service approximately every 2–3 weeks.
can take up to 2 hours
comfortably reclined under a blanket on a heated facial bed
painless
$200-$325 / 2 hrs
1 hour maintanence
goal is to fill where the extensions have thinned
leave with a full set again
$50 $ up / 60 min
Make your peepers pop!  Our experts will help you pick the perfect shade for your brows. Sometimes getting color on those blonde (dare we say gray!) hairs in the brows can make all the difference in having on-point brows!
Have blonde lashes or blonde tipped lashes? Let us tint them!  A super safe and speedy service sure to satisfy, lash tinting will keep your lashes dark and lush for 3-4 weeks.
$35 – Lash Tint / 30 min
$25 – Brow Tint / 15 min